In B2B marketing, we're used to segmenting our audiences. Often this will be by vertical or stage of the sales cycle or geography. Chances are, however, that the only audience that really gets considered most of the time is customers/prospects. After all, they're the ones spending the money. Stands to reason that they're the ones we need to influence.
The problem is, by only focusing on customers, you could be harming your results. Because, in a B2B environment, you need to look at both external and internal audiences to be successful. More than this, you need to consider the overlap between them.
Fundamentally, there are three groups you should consider:
Customers and prospects

Your sales team and channel partners

The C-suite (specifically the CEO and CFO)
While everyone talks about sales and marketing (mis)alignment, it's actually at the intersection of these three groups that you should place most of your focus.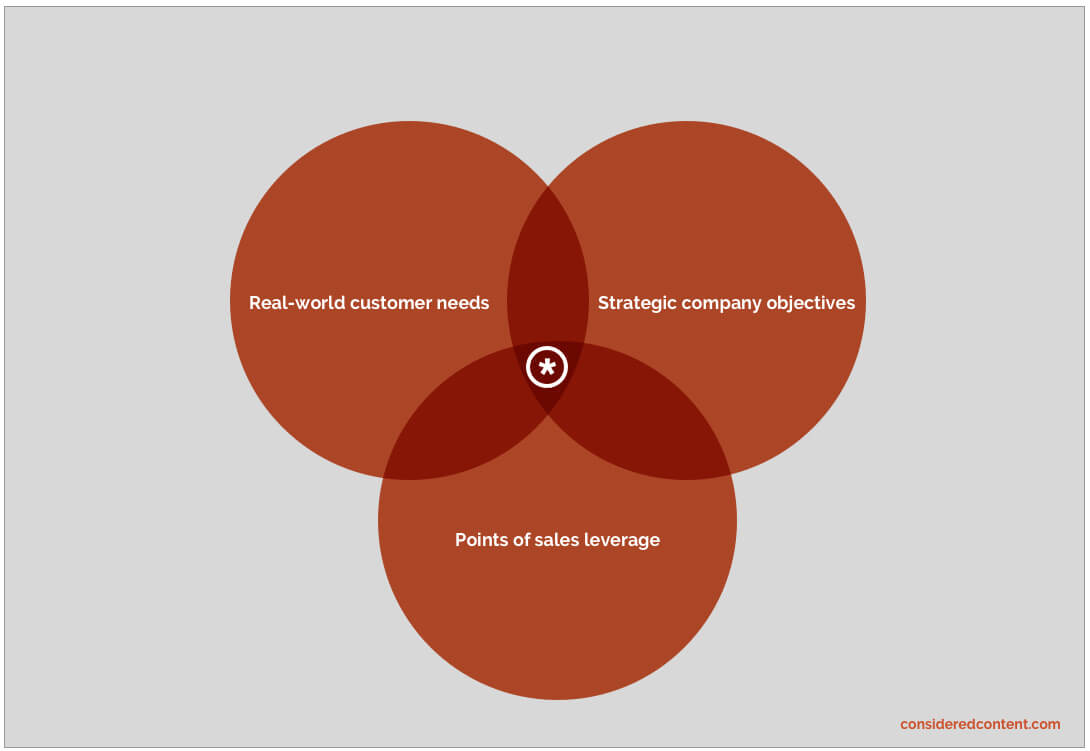 In Thomas Barta and Patrick Barwise's excellent new book, The 12 Powers of a Marketing Leader, they talk about operating in 'the V-Zone'. This is the intersection of 'customer needs' and 'company needs' where true value is created. They see this as a critical component for how today's marketing leaders can increase their effectiveness and influence within an organisation. It's where the big strategic issues can be found (keeping marketing leaders out of the weeds of the never-ending tactical options that take up too much focus in many marketing departments).
I would argue that this offers two parts of the picture but lacks an activation element (which in B2B is sales). In its defence, the 12 Powers approach is totally focused on marketing leadership and how it links to business strategy, so sales would probably be seen as one of the tactical outputs. The book is also not specifically focused on B2B where sales has a different quality (than FMCG/retail). It's a great book though, you should buy it.
So what does this intersection look like? Let's look at each part of the equation individually before bringing them together.
Getting under the skin of customers and prospects
Understanding customer needs should be home turf for most marketers. However, many struggle to invest the required budget to discover something that is unlikely to deliver payback in the next quarter. As a result, they tend to use general assumptions or, worse, make-believe personas in place of real insight.
We'd argue that this kind of research is always money well spent as it will deliver a dividend across everything you do thereafter — from how you target customers, to what you say to them, to what you say about them within the business. What's more, it doesn't have to be as difficult or time-consuming as many think (contact us to learn how).
Importantly, this is about understanding what customers really need not what we wish they needed (wishing doesn't make it so). More than this, it's about recognising the needs that we can ultimately help address. It sounds obvious but too many content marketing approaches get distracted with things that customers may find interesting but which don't lead back to any kind of revenue impact for the business.
Understanding the CEO's strategic objectives
In many ways, getting a grip on the company's objectives shouldn't be a problem. After all, marketing sits within the business. But the reality is often more opaque. In our recent Revenue Rift report, the #1 barrier to marketing hitting its pipeline and revenue targets was 'Lack of clarity from management'.
Now, of course, this is a two-way street. Senior management should be clearly communicating where the business is headed. However, marketing is also responsible for extracting the information and interpreting it within a marketing context.
All too often, marketing will simply look at a small part of the overall business objectives (eg the sales targets — of which a proportion falls under marketing's remit). This will significantly limit marketing's value to the business.
The core objectives will differ from company to company, but a number of usual suspects are likely to appear:
While marketing tends to place most of its focus on just the first of these, it has the opportunity to deliver significant impact across all five. In doing so, it can move from a tactical operation that's the first to have its budget cut to one that's core to what really matters to those that hold the purse strings.